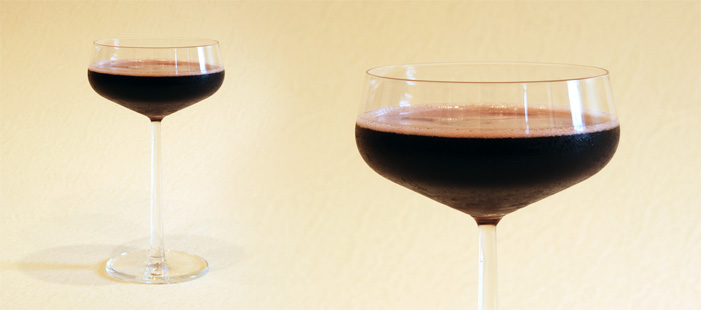 Z'roa symbolizes the traditional Passover sacrifice, a lamb that was offered in the Temple in Jerusalem and then eaten as part of the seder meal. On the modern seder plate, z'roa is represented by a roasted lamb shank bone.

Developing a z'roa cocktail was one of the biggest challenges in creating The Sipping Seder. Rather than focus on the symbolic bone, we turned our thoughts to the origin of the custom. We crafted a deep, crimson cocktail to remind us of the blood of the sacrificial lamb.

Our recipe is a variation on St. Charles punch, which originated in New Orleans and appeared in the 1862 edition of Jerry Thomas' famous bartending guide. Our version replaces brandy with bourbon, uses slightly less ruby port and adds a bit of maraschino liqueur to round things out.

---

As you sip the z'roa cocktail, think about the sacrifices others have made for you. How can you repay their kindness?

---


Ingredients:

2 oz (60 ml) Basil Hayden's Bourbon

2 oz (60 ml) Ruby Port

1 tsp (5 ml) Gum Syrup

¼ oz (7 ml) Lemon Juice

¼ tsp (1.25 ml) Maraschino Liqueur


Directions:

1) Combine all ingredients in a mixing glass. Shake well with ice.

2) Strain through a fine mesh strainer into a chilled cocktail glass.


Note:

Please see notes on keeping kosher if that's important to you.