An Introduction
Purim is the Jewish holiday in which intoxication is mandated.
Passover, however, runs a really close second. Four cups of wine? You can't get to the end of a seder and still be steady on your feet. And what's wrong with that? As we cross from Red Sea to Tipsy, we liberate ourselves from the familiar muck that makes us feel narrow and stuck. Instead, the age-old ritual of sipping and storytelling elevates our minds and opens our spirits to unthought-of possibilities, new wanderings, and a full flight of promised lands.
So if the seder has remained a thing of your childhood, maybe it's time for a revival – in nice stemware. Get your friends over. Mix up a tall glass of charoset. Or z'roa. And tell each other your stories of liberation:
What was the oppression that you fled?
In what ways are you still stuck in a narrow place, and what do you need to be free?
What are you grateful for right now?
What can you do (once you sober up) to stir up some more freedom in the world?
Four questions. Four glasses. And a good, old-new story.
Raise your glass. Happy Passover.
The idea for this ritual was drawn from the Four-Question Seder developed by Amichai Lau Lavie of Storahtelling.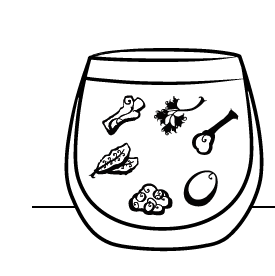 What is The Sipping Seder?
The Sipping Seder is a creative reinterpretation of the traditional Passover seder plate as a series of classically-inspired cocktails. The project was born out of our strong interest in cocktail culture and our desire to keep ties with Jewish heritage.
At this point in our lives, neither of us is really engaged in any significant religious practice of Judaism. It remains important to us, however, to mark some celebration of Jewish holidays throughout the year as a means of staying connected to our Jewish upbringing.
Our love of cocktails centers around an appreciation of exquisite elixirs, but it runs deeper than that. We love the way cocktails can represent links to history – tangible, tastable connections to the sense and spirit of bygone eras.
Looking at these issues together, we saw an opportunity to do something interesting.
Our usual cocktail exploration involves ferreting out old recipes as a way of understanding something of the times in which they existed. Here, we thought it would be fun to turn that process around. We've tried to rework elements and approaches from classic cocktails and modern mixology in new ways that could forge new connections to our own history and traditions.
Obviously, this is not intended as an actual observance of Passover. These recipes could never replace the seder plate – no matter how much you might want them to. These cocktails are merely artistic representations. Together, we hope they'll bring you some light-hearted joy at a time when many turn their thoughts to tradition.
And, if you're at all like us – handier with a mixing glass than a sauté pan – we hope The Sipping Seder will make it a little easier to pull off a Passover-inspired gathering. We'd never attempt to host friends and family for a home-cooked Passover dinner. Stirring up a few tasty tipples, though, is something we can handle fairly well.
We hope you'll take a few minutes to explore the cocktails »
L'chaim!
Because of the grains used to distill the spirits in the recipes, the cocktails in The Sipping Seder are not kosher for Passover. However, a few of our drinks can be adapted easily to meet the requirements. Or, you can enjoy any of these cocktails to get into the spirit of the holiday as Passover approaches.
Distillery 209 introduced a lovely kosher-for-Passover gin in 2010 that is made from certified sugar-cane-based neutral spirits with an adjusted mix of botanicals. It is featured in the chazeret cocktail. The gin is a limited release. If you can't track down a bottle, I would check with the distillery directly. They are very nice people. You might also want to try their gin in the karpas cocktail.
The maror cocktail is kosher for Passover if prepared with the proper vodka. Despite common misconceptions, most vodkas on the market today are distilled from grain. Distillery 209 introduced a kosher-for-Passover vodka in 2012. It shares a similar neutral flavor with their popular paschal gin, but has a somewhat sweeter finish. If you can't obtain a bottle in your local area, a potato-based vodka will work well. Be sure to check ingredients carefully or ask for a recommendation.