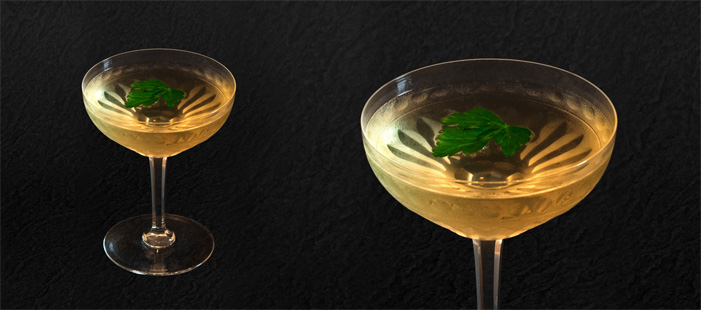 Karpas is a vegetable other than bitter herbs on the seder plate, and it represents the coming of spring. It is usually parsley, but celery or cooked potato are sometimes also used. At the beginning of the seder, the karpas is dipped into salt water (Ashkenazi custom), vinegar (Sephardic custom) or charoset (Yemenite custom). The practice symbolizes the tears shed by enslaved Jews in Egypt.

Following a fairly literal approach, our karpas cocktail involves parsley and balsamic vinegar. We combine these with Leopolds's American Small Batch Gin, which has some light flowery flavors that pair well with the subtle vegetal taste of the parsley. We definitely suggest using flat or Italian parsley instead of the curly variety, which we found a bit bitter. The effect of the vinegar is subtle, but it adds a nice complexity to the brighter flavors.

---

As you sip the karpas cocktail, think about life's potential. What do you hope for in the coming season?

---


Ingredients:

2 oz (60 ml) Leopold's Gin

2 sprigs Flat or Italian Parsley – leaves only

3 drops Balsamic Vinegar


Directions:

1) Combine all ingredients in a shaker with ice. Shake gently to chill the drink and bruise the parsley.

2) Strain through a fine mesh strainer into a chilled cocktail glass.

3) Garnish with a single parsley leaf floating in the drink.


Notes:

The gentle shaking is the key to this cocktail. You want to roll the drink back and forth in the shaker to release the flavor of the parsley without overly macerating the leaves.

Please see notes on keeping kosher if that's important to you.