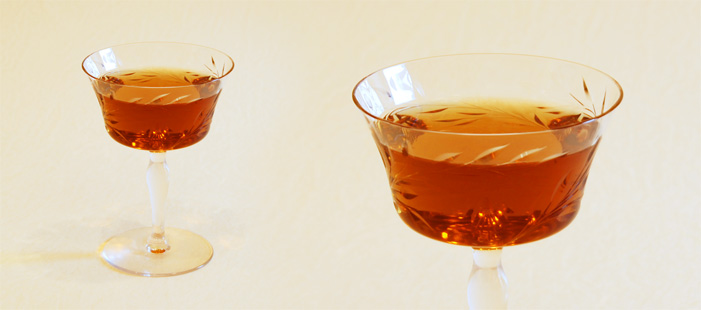 Charoset represents the mortar used by Jewish slaves to build the cities and storehouses of Ancient Egypt. Recipes vary among different Jewish communities, but it is generally a sweet, brown, pebbly mixture. In the Ashkenazi tradition of our families, charoset was usually composed of walnuts, honey, apples, cinnamon and red wine ground into a gravelly paste.

Our liquid approach to charoset is fairly simple. Rather than concern ourselves with each of the ingredients, we wanted a flavor profile that would arouse the sense memory of this childhood favorite.

The recipe is based heavily on the manuka-honey-flavored vodka from 42Below out of New Zealand. We don't often pay much attention to the overcrowded landscape of flavored vodkas on the market, but we're extremely fond of this one. We were first introduced to it at Paper in Beijing, where the bar manager was having a lot of fun experimenting with the stuff. We bought a bottle as soon as we returned stateside and have had one on hand ever since.

---

As you sip the charoset cocktail, think about the things that bind you today. What do you need in order to be free?

---


Ingredients:

1 oz (30 ml) 42Below Manuka Honey Vodka

1 oz (30 ml) Dolin Sweet Vermouth

Cinnamon


Directions:

1) Combine ingredients in a mixing glass and stir with ice.

2) Strain into a chilled cocktail glass.

3) Dust with freshly grated cinnamon.


Notes:

As a variation, the recipe also responds well to the addition of ½ ounce of Calvados, the French apple brandy.

Please see notes on keeping kosher if that's important to you.