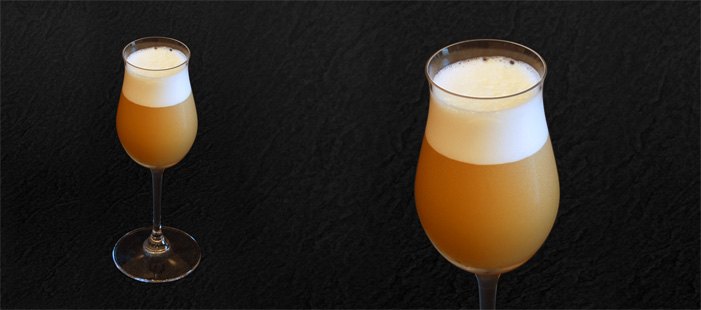 On the seder plate, beitzah is said to remind us of the other festival sacrifice offered in the Temple in Jerusalem. It is represented by a baked egg and symbolizes our sorrow at the destruction of the Temple along with the hope that it will be rebuilt. 

The nature of the egg also speaks to the potential of the spring season in which Passover is celebrated. Many scholars believe it was a pre-existing pagan tradition which was absorbed into the seder ritual. This would explain why it sits on the plate without ever being used or referenced. It is likely the origin of beitzah is similar to that of the Easter egg, which also lacks a specific role in its holiday.

Crafting an egg-based cocktail to represent beitzah was an obvious choice, but the number of possible variations to think through was a real challenge. We considered numerous approaches, but thought it was most important to find a flavor profile to fit well with a Passover theme. Our solution is an interesting balance of ingredients. We think it rounds out The Sipping Seder nicely.

---

As you sip the beitzah cocktail, think about your own potential. How can you stir up some more freedom in the world?

---


Ingredients:

1/2 oz (15 ml) Laird's Bonded Apple Brandy

1/2 oz (15 ml) Bulleit Bourbon

1/2 oz (15 ml) Benedictine

1/2 oz (15 ml) Galliano

1 Egg White


Directions:

1) Combine all ingredients in a mixing glass and shake vigorously without ice.

2) Fill 2/3 full of ice and shake vigorously for an additional 60 seconds.

3) Strain into a chilled tulip-shaped glass.


Notes:

As with almost any egg-based drink, shaking is the key to this cocktail. The "dry shake" (without ice) in the first step will improve your results significantly.

If you have an extra Hawthorn strainer, remove the spring and place it in the shaker. The little coil will help further improve your egg froth.

Please see notes on keeping kosher if that's important to you.